2021 Strong Awards Breakfast
Mark your calendar! Join us for the 7th Annual Strong Awards Breakfast to celebrate the outstanding achievements of women and girls in our community. The 2021 Strong Awards will feature three exceptional women and girls and a company/organization advocate as this year's Strong Award winners. We hope you'll join us in congratulating them on their perseverance, character, and commitment to the community.
We're currently collecting nominations for the 2021 Strong Awards winners. Click here to make a submission.
Register Now with Early-bird Pricing for the Strong Awards
Hosted by Strong Women Strong Girls Pittsburgh
Event links coming soon, including our online Basket Raffle and merchandise.
Friday, July 30, 2020
8 a.m. – 10 a.m.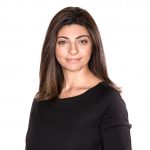 We are thrilled to announce that this year's event will feature Rana el Kaliouby as our Keynote Speaker. Rana's life work is about humanizing technology before it dehumanizes us. She is an Egyptian-American scientist, entrepreneur, author and AI thought leader on a mission to bring emotional intelligence to our digital world. She is the co-founder and CEO of Affectiva, an MIT Media Lab spinoff credited with creating the category of artificial emotional intelligence, or Emotion AI. Her memoir, Girl Decoded: A Scientist's Quest to Reclaim Our Humanity by Bringing Emotional Intelligence to Technology (published by Penguin Random House), follows her personal journey, growing up in the Middle East and moving to the United States to become an entrepreneur, juxtaposed against her work building Emotion AI.
The first 150 registrants for the 2021 Strong Awards will receive a FREE copy of Rana's Girl Decoded!
All proceeds from this signature fundraiser will fund mentorship programming for our elementary school girls, who need our support now more than ever, as they face unprecedented stressors.
We're Going Virtual!
While we'll miss celebrating with you in person, in the interest of our community's health and safety, we're thrilled to announce our first-ever virtual Strong Awards! We know that with your support, we'll reach even more women and girls around the region and beyond with an all-virtual program.
Sponsor the Strong Awards!
Make an even bigger impact by sponsoring the 2021 Strong Awards to ensure strong mentorship programming is available for girls in our region next year. View sponsorship packages here and email mescajeda@swsg.org for more information.
Our Sponsors