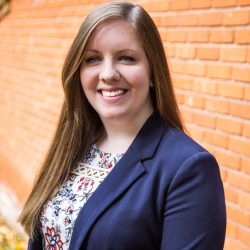 Kimmi Baston
National Director of Operations
Kimmi Baston joined Strong Women, Strong Girls in December 2017 as Communications & Special Projects Associate, and she has since moved through several roles to become Managing Director. In her role, Kimmi manages the staff team in the Pittsburgh office, oversees program and fundraising execution, plans all major organizational events, and liaises with the organization's CEO and Board of Directors.
Before joining Strong Women, Strong Girls, Kimmi Baston served as a communications professional in Clinical Marketing at UPMC in Downtown Pittsburgh. She graduated from Waynesburg University in April 2017 with a degree in journalism, marketing, and public relations after spending two years as the Executive Editor of Waynesburg's national award-winning student newspaper. Kimmi's time at Waynesburg secured her passion for both communications and service, which she seeks to combine in her work today.
Kimmi lives in Pittsburgh and enjoys serving her church in Harrison City, Pa., as a singer, as well as serving with Heart & Hand Ministries in West Virginia on an annual basis. She also spends as much time as possible with her parents, older sister & brother-in-law, and dog-neice.