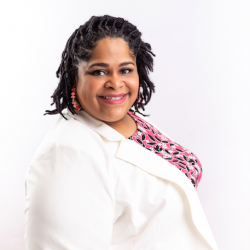 Natalie Martinez
Chief Executive Officer
Natalie Martinez is CEO of Strong Women, Strong Girls (SWSG), a multi-generational mentoring organization that serves more than 1200 girls a year in the cities of Boston and Pittsburgh. Natalie joined SWSG with nearly two decades of experience in non-profit and academic administration, working with diverse stakeholders, building new programs, and supporting organizational growth.
Natalie's professional and personal experience in Boston, paired with her strong leadership capacity and passion for our work, makes her the perfect leader for SWSG. Before accepting her role as CEO, Natalie was the Associate Director of Alumni Relations at Tufts University School of Dental Medicine. She has also worked at Boston University School of Medicine, Central Boston Elder Services, Boston Day and Evening Academy, and the Unitarian Universalist Association.
Natalie has completed coursework in Northeastern University's Masters in Nonprofit Management program and holds a Bachelor of Science in Management from Lesley University and a certificate in Nonprofit Management and Leadership from The Institute for Nonprofit Practice via Tufts University's Tisch College, where she is also a faculty member for the Community Fellows Program.
A native of Boston, she currently resides in Brockton with her spouse, Chris, and their three daughters. As a family, they love to cook and share the experience of new cuisines and culinary traditions.