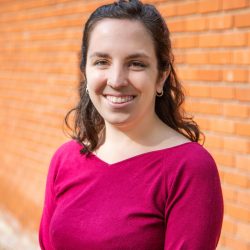 Rachel Vincguerra
Monitoring, Evaluation, and Learning Manager
Rachel Vinciguerra, MSW, MID is the Monitoring, Evaluation & Learning Manager at Strong Women, Strong Girls Pittsburgh. After consulting with the organization starting in December 2017 to design a new evaluation strategy, she joined as a staff member in September 2018.
Prior to joining Strong Women, Strong Girls, Rachel received her Master of Social Work and Master of International Development degrees from the University of Pittsburgh. While in graduate school, Rachel worked with the United Nations Development Programme as the Student Coordinator of the Gender Equality in Public Administration working group and on the Gender Team at the Bangkok Regional Hub for Asia and the Pacific. She earned her yoga teacher certification in Rishikesh, India. And she worked with the FISA Foundation as an intern and served and continues to serve on the boards of directors for The Birmingham Foundation and Write to Be (a nonprofit supporting girls in Haiti).
In 2016, Rachel was the recipient of the Dean's Award from the Graduate School for Public & International Affairs and the Leadership & Service Award from the Graduate Student Government at the University of Pittsburgh. In 2010, she was the recipient of the Student Humanitarian Award from Ohio Wesleyan University, where she earned her B.A. in History.
Over the past four years Rachel has worked with a number of nonprofit organizations in Pittsburgh on staff or as evaluation consultant including: Repair the World Pittsburgh, East End Cooperative Ministries, Hello Neighbor, and Providence Connections. She has also been a member of the Black Girls Equity Alliance since 2017. From 2014 to 2015, she worked in Les Cayes, Haiti at a residential care facility where she co-founded a girls' empowerment program called Fi Ki Fò (meaning 'strong girl' in Haitian Creole). She most recently joined the Board of Directors for the Jane Addams Peace Association which awards children's books promoting themes of peace and social justice annually.
Though originally from Boston, Rachel has made her home in Pittsburgh where she teaches yoga around the city, volunteers on nonprofit boards, and performs as a dancer. In her free time, Rachel loves to cook, go on adventures with friends and family, and practice new forms of art (most recently ceramics!). She is most passionate about bringing together artful practices and social justice work.