Dear SWSG supporters and friends,
When thinking back on the month of March and the dedication our community showed during Women's History Month, I'm overcome with inspiration and hope. After a month full of celebration and recognition of the vital role women play in society, one thing is clear: the need for our program isn't disappearing anytime soon. Thanks to each and every one of you for your tenacity and support in empowering each other and the future leaders of tomorrow, both throughout March and every day.
Women's History Month and International Women's Day brought several opportunities for our community to gather, celebrate and lift up the impact of mentorship on girls. On March 8, International Women's Day, some very special guests made a surprise visit to girls at one of our program sites to make history. Massachusetts Gov. Maura Healey and Lt. Gov. Kim Driscoll, alongside our girls, declared March Women's History Month and joined them for a day of SWSG programming. View a video of their experience here. That same night, I joined Legacy Place for TogetHER 2023, a philanthropic initiative to bring together key industry leaders for conversations centered around women's equality and empowerment. NBC10 featured SWSG in a live segment to emphasize the importance of SWSG mentorship to the larger Boston community.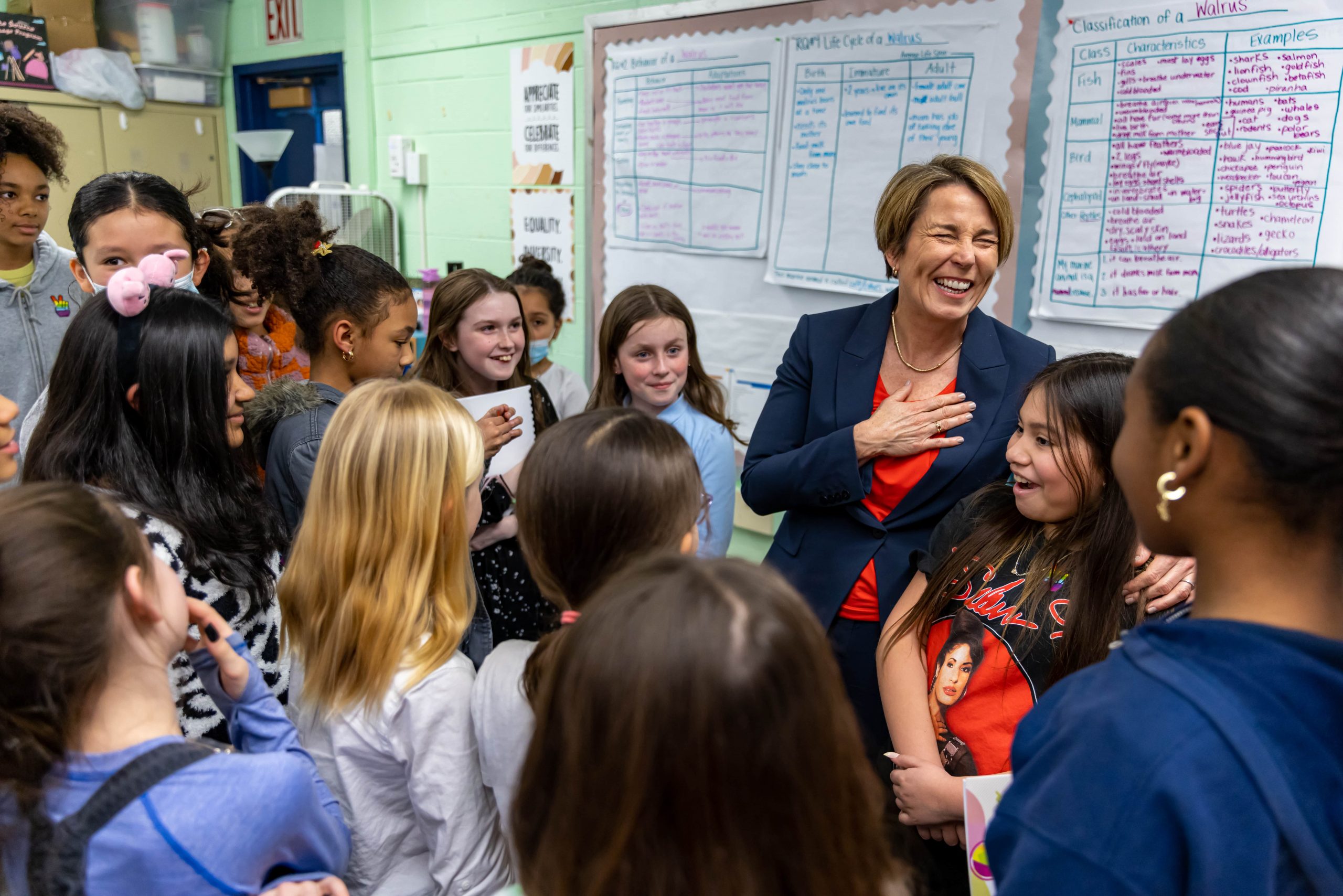 Gov. Maura Healey sharing a laugh with SWSG mentees during her surprise visit.
The celebrations didn't stop there. We joined PepsiCo's Women of New England event on March 22, where we networked and discussed the importance of women's empowerment. Then, EVEREVE's night of fashion and fundraising on March 23 gave us an opportunity to connect with individuals for a fun night of fashion while raising money for our programming. Soon after, I made my way to New York for our inaugural NYC fundraising event—Strong Women, Strong Girls, Strong Drinks—at North Bar to engage with women leaders. We were joined by the women behind brands like Mara Hoffman, Overseasoned, High Water Candle, Good Clean Love, Brooklyn Tonic and the 60+ attendees, who all gathered to celebrate the importance of mentorship programs like ours. 
SWSG Pittsburgh celebrated through networking and fundraising events of their own. At our International Women's Month Networking Event, attendees were joined by Janet Kirk—CPM, AWM, managing director and financial advisor—in discussing her 44-year-long career and breaking down barriers in a male-dominated industry. Our Strong Leader cohort was able to convene during a happy hour to network, learn financial literacy and fundraise for SWSG.
Celebrating Women's History Month only strengthened our commitment to building confidence to set our girls up for a brighter, fuller future. To keep the momentum going, I invite you to join us for our upcoming signature events. SWSG Boston's annual Jump Into Spring event will be held at the Reggie Lewis Track and Athletic Center on April 29. This event brings together the entire SWSG community for an action-packed day full of activities centered around the Six C's of Positive Youth Development. There will be fun for the whole family, including activity booths, life-size games, an ice cream truck, a balloon twister, a bounce house, and much more! The event is open to the public for the first time in its history—anyone interested in attending is encouraged to register here. In Pittsburgh, save the date and plan to attend our annual Strong Awards Breakfast on August 11—tickets are going on sale soon. You won't want to miss this inspiring, mission-focused event where we celebrate the achievements of phenomenal women and girls who have positively impacted the lives of many in the Pittsburgh community. Finally, I encourage you to consider investing in SWSG and the communities we serve by supporting our Mother's Day campaign. Join us in building strength, empowering youth and celebrating mentorship!
Thank you for your continued support, and I hope to see you at one of our events!
In strength, 
Natalie Martinez