Our Story
SWSG was founded in 2000 as a student group in Boston to create mentorship opportunities for women and girls.
In its first year, SWSG engaged just six college women and 30 elementary school girls. SWSG incorporated as a nonprofit organization in 2004 and expanded to Pittsburgh, PA, in 2006. Since that time, our elementary school girl program has grown rapidly at the request of schools, communities, parents, and college women to serve more than 1,250 girls every year.
Why SWSG?
In SWSG, three generations of females build community, connections, and strength to break down barriers and imagine a broader future. Girls in grades 3-5, who are primarily from under-resourced neighborhoods, attend weekly, curriculum-guided mentoring sessions with college women mentors. At the same time, our College Mentors build relationships with professional women mentors, known as Strong Leaders, creating a sustainable future for the next generation of female leaders.
Our multi-generational model amplifies the well-established benefits of strong mentorship for young people:
Increased school attendance and participation
Greater tendency for leadership and civic engagement
Stronger self-identity and confidence
Increased future orientation, including college and career ambitions
For over 15 years, we've demonstrated the success of our programs through our girls and mentors, who go on to be amazing leaders and advocates for future generations.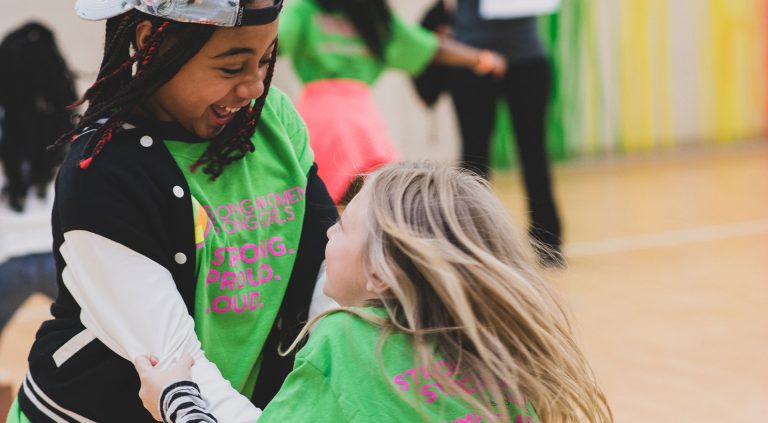 SWSG Today
SWSG provides mentorship programming annually to more than 1,200 girls from under-resourced communities in Boston and Pittsburgh with the help of more than 525 college women mentors. We have 13 college chapters and more than 80 program sites across the two cities, as well as a network of professional women who volunteer as Strong Leader mentors. Our growth in volume is matched by continuous program additions, as we create innovative opportunities for girls to meet new audiences and explore different careers and interests.
The Value of Mentorship
Our programs create mutual cycles of empowerment and benefit all three generations of participants.
Elementary School Girls
Build supportive-growth fostering relationships with strong women role models and their peers
Practice skills like leadership, teamwork, and critical thinking
Gain exposure to varied academic and career paths
Have fun!
College Mentors
Build positive relationships with girls and encourage their aspirations
Develop as leaders and professionals through facilitation and networking
Receive mentorship and guidance from professional women
Professional Women (Strong Leaders)
Invest in the next generation through Group Mentoring and one-on-one mentoring matches
Network and share experiences with a diverse community of women
Build capacity as role models and leaders