"I am Strong Leader because…
I'm empathic, and I have a desire to bring out and see the best in people."
~ Divya Vermareddy, Strong Leader mentor (Pittsburgh)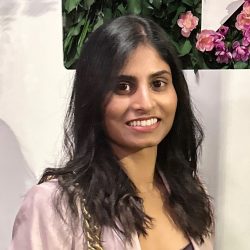 In 2011, Divya Vermareddy moved to the United States from Hyderabad, the capital city of the Telangana state in India for graduate school. After earning her Masters in Computer Science from State University of New York Binghamton, she worked as a software engineer for many years and is currently employed at MicroSoft. While she relishes the challenges of her work, working remotely in the Pittsburgh area left her yearning for more in-person and local connections.
Divya was drawn to Strong Women, Strong Girls (SWSG) because she is passionate about helping people and giving back where she can. But, she was still nervous about her first volunteer experience with the organization: "Will I be able to mentor someone?"
As a professional woman, she became a SWSG "Strong Leader" and was paired with a local college woman who was volunteering through her college chapter with a SWSG after-school program for girls. This important multi-generational mentoring cycle provides support and guidance as well as training in relationship building, communication, and leadership skills for the college women and grade school girls alike.
For Divya, it was a perfect opportunity to support a young woman during the pivotal transition from college to career, something she wished she had received more guidance for as a young person. While her family was supportive of her academic progress, Divya didn't have her first mentor until after completing her graduate program. When she was unsure about next steps in pursuing a career in technology, the spouse of a family member who knew her and her personality and also worked in the industry offered ideas and encouragement.
According to Divya, "He was very supportive and said, 'You should try coding and see how it goes. If you don't like it, you can try something different.'" And, it was the right choice!
Her mentoring approach
Divya knows college is a busy and stressful time, she remembers those not-too-distant days well. Her approach to her mentoring relationships is to stay in touch, be supportive, and have fun. Paired with a new college woman each academic year, they meet in person once a month and she stays in touch through text. And, when challenges arise in a mentee's life, Divya leverages their check-ins as a way to share her own similar experiences and lessons learned. 
"When navigating through life, we encounter roadblocks, and often need motivation. Being able to inspire others can create significant change in their lives, even though I might not foresee the full extent of that impact. But knowing that I played a part in someone's journey and possibly made their path a bit brighter, that's a fulfilling feeling for me." 
Now that she has been with SWSG for a few years, Divya knows she has more to offer to both the college women and girl participants. In addition to her mentoring relationships, she volunteers at training sessions and during the campus field trips SWSG's girl program participants attend. Plus, she is excited for the new activities and events that will take place for the organization's 20th Anniversary in 2023 and 2024.
And, she's eager to continue to grow the community of SWSG'S Strong Leaders in Pittsburgh, helping to bring together like-minded professional women who have so much to share.
"I'm so comfortable doing this, and I've met so many amazing people!"