SWSG Pittsburgh Strong Awards Breakfast
Friday, August 11, 2023 | 8-10 a.m.
Westin Hotel & Convention Center in Downtown Pittsburgh
———
Join us for the 9th Annual Strong Awards Breakfast to celebrate the outstanding achievements of women and girls in our community on Friday, August 11, in Downtown Pittsburgh! The event will feature three exceptional women and girls and a company/organization advocate as this year's Strong Award winners. 
Attendees can look forward to a delicious breakfast and access to pre-event networking, exclusive merchandise, and a basket raffle that celebrates local businesses. All proceeds from this signature fundraiser will fund mentorship programming for our elementary school girls, who need our support now more than ever, as they face unprecedented stressors.
VIP Reception: We've heard your feedback! A VIP Reception will be held immediately following the breakfast at 10 a.m. where you, as a long-standing member of our community, can meet our event speakers, award-winners, SWSG staff & board, and network with SWSG sponsors and influential community members. Just add the VIP Reception on to your breakfast ticket to attend! 
Not in Pittsburgh on August 11? Get a livestream ticket to join us virtually in real time!
———
FEATURING:
KEYNOTE SPEAKER, LEANNE MEYER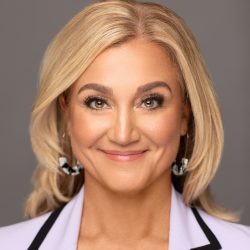 Leanne Meyer is the author of Climbing the Spiral Staircase, a critical guide for women seeking to gain control of their professional paths. She directs the Carnegie Mellon Women's Executive Leadership Academy and is the former executive director of the university's Accelerate Leadership Center at the Tepper School of Business.
Drawing from her thirty years of senior-level consulting and executive development experience, Leanne provides evidence-based methods to change business practices around the world. Her work focuses on assisting leaders in navigating critical inflection points where many have outgrown their professional identity and, given the demands and responsibility of their roles, need to change their perspectives regarding what is important. She helps leaders assess how they spend their time and what new skill sets and behaviors they need to develop. Her clients include several Fortune 100 large and midsize companies.
Leanne's career and creativity are anchored in leadership development—in helping people discover their potential, stand strong in their values, claim their worth, and believe in their talents to become the leaders they want to be in ways that embrace possibility and potential.
Her calling is to help leaders make sense of their lives through the reclamation of passion and purpose. Beginning in South Africa, Leanne had the good fortune to follow this calling on three continents in corporate, academic, and not-for- profit settings as a business leader, program designer and developer, entrepreneur, facilitator, speaker, educator, and coach.
Leanne resides in Pittsburgh, PA with her husband. She holds a master's degree in industrial psychology from the University of Johannesburg.